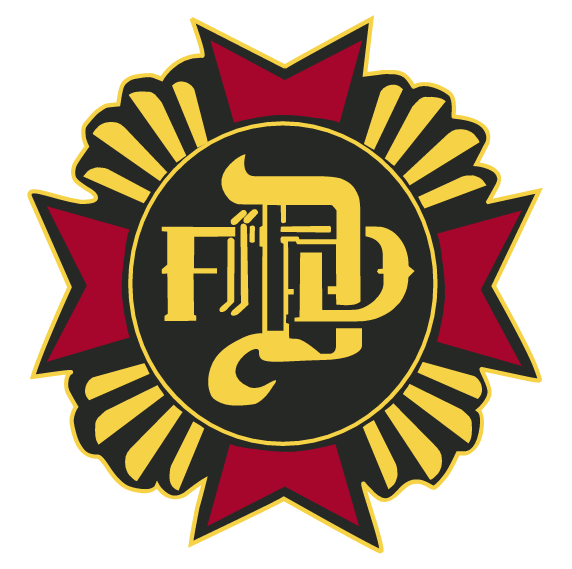 Dispatched via the Provincial 911 system, we are a paid call fire service with a complement of 36 front line firefighters; trained to Level I and II Firefighter; NFPA 1001 – Standard for Professional Firefighter Qualifications.
The Dauphin Fire Department serves the citizens of both the City and Rural Municipality of Dauphin covering an approximate area of 1,036 square kilometers and a population of 10,504 (2021 Census). We respond to incidents in the City and surrounding municipality including fires (of any type), motor vehicle collisions, rescues, water rescue as well as basic hazardous materials calls. The Dauphin Fire Department works closely with the members of the Sifton Fire Department located approximately 30 kilometers north of the City of Dauphin.
The history of the Dauphin Fire Department goes all the way back to 1901 when the first organized Fire Brigade was established. The first piece of apparatus was a horse drawn pump, which was sold after the Town of Dauphin purchased its first motorized piece of firefighting apparatus, a 1917 Chevrolet 490. The 1917, along with a 1936 Pumper, have been restored by the Firefighter's Association and hold a special place of distinction as showpieces of the Department.
Our Firefighter's Association performs many volunteer duties to raise donations from the community, with which they purchase much needed equipment and donate back to the Fire Department.
The Dauphin Fire Department is also involved throughout the year in Public Education, Fire and Life Safety Inspections, and Pre-Incident Planning. If you require any additional information regarding the services we provide, or just have a general inquiry, please feel free contact us.
Thank you for visiting and have a safe day!
Cameron D. A. Abrey, ECFO, CCFI-C
Fire Chief
Recruitment Information
Are you interested in becoming a member of the Dauphin Fire Department?
Are you energetic?
Do you enjoy learning new skills?
Do you enjoy working in a team environment?
Would you like to give back to your community?
If you answered YES to these questions, click on the link to the Recruitment Package and find out how you can become a member of the Dauphin Fire Department.
Dauphin Fire Department Recruitment Package 2023


Call Volume
To view the Fire Department Annual Call Volumes please click here.


First Aid Training Registration
To sign up for the next CPR course, please fill out the attached form CPR Participant Registration Form and return it to City Hall along with payment.
For more information on the next CPR course, please contact the Fire Hall at (204) 622-3100.


Outdoor Fire Pit Information
General Information
Fire Prevention Emergency Services Bylaw 01-2013
Fireworks Display Permit Application

Cameron Abrey
Job Title: Fire Chief
Location: 121 – 2nd Street N.W.
Community: Dauphin
Phone: 204-622-3100
Fax: 204-622-3139
Email: firedepartment@dauphin.ca